How to Identify Navajo Textiles
---
Copyright Notice
This site is copyrighted; please respect that. That means that you don't have permission to "borrow" this material for your Ebay listing, your term paper or whatever other use you are trying to rationalize (you know who you are). This information exists to provide people with a means of determining whether a textile is Navajo or not. If you want to publish this material somewhere else, please contact me for permission and please have the decency to properly cite where you acquired the information.
---
This section could also be called "How to Avoid Being Ripped Off on eBay". Every morning at about 6 AM, I get some coffee, and wander out to eBay to do a simple search for the words "Navajo rug" and "Navajo weaving". On any given day, there are 250 to 400 hits from those words. The pieces offered range from out and out copies of Navajo woven pieces (directly copied from a book no less), to real treasures that have been rescued from an attic and placed up for auction with a description like "Navajo? weaved rug" (grammar isn't an eBay requirement).
In between, the offerings range from great pieces from reputable dealers to out and out frauds. I used to occasionally ask an eBay seller how they determined the authenticity of a textile, but I've got better things to do than argue with people. Rugs appearing to be Navajo can also be found in many antique stores, thrift stores, yard sales, and swap meets. I've also encountered people who have been given Navajo rugs that the owner no longer wanted. I don't understand why I am never around when free rugs are being given out, but that's a different story. Anyhow, here are some guidelines that will help you determine whether you are looking at a Navajo textile or not.
1. Mo
st Navajo rugs do not have a fringe. By most, I mean 99.5%. If the piece you're looking at has a fringe, you ask that seller how they determined that the piece was Navajo made. I don't care if they think their sainted grandmother bought the rug from J.L. Hubbell, if it has fringe, it probably isn't Navajo. Navajo rugs are warped in a continuous figure eight technique and the weaving fills the entire warp. The picture at left shows a rug being woven. If you look carefully at the ends of a Navajo rug, you will see the ends of these loops.
There are two exceptions to the "no fringe" rule. Germantown rugs have a fringe that is added on after the rug is woven. They are rare and there's a good picture of one of them at left. The fringe on an antique Germantown may be partially worn away, or gone altogether, but this does not hurt the structure of the textile, since the fringe is an add-on. The other exception to the rule is a Gallup throw. These small pieces
about usually 18″ by 24″ and are woven in the Gallup, New Mexico area. A typical Gallup throw is woven on a cotton warp, and the weaving is cut off and knotted rather than finished in the traditional way so there is a fringe on one end only. There are thousands of Gallup throws out there that were sold to train passengers along the Sante Fe railway. They make a nice addition to a collection and usually will cost $40 to $50, although I've seen them go for $250 on eBay.
2. Navajo rugs do not have ridges at the ends. On occasion, someone who is trying to pass a rug off as Navajo or just make it look more Navajo will take the time to actually run the warps back into the rug to eliminate the fringe, but this creates ridges in the ends of the piece. If you separate the weft yarns slightly, you'll see the doubled up warps. The next time I see a good example of this, I'll add a picture of it. This is very common in some Ye'i rug copies that are done in Mexico.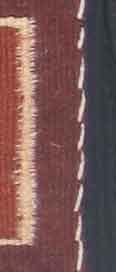 3. Navajo rugs often have a side selvage cord. Navajo weavers often use a twisted side selvage cord to help them maintain a straight edge. The presence or absence of a side selvage cord is not as definite an indicator as a fringe, but if the cord is there, it builds the case that it's Navajo. Mexican weavers maintain straight sides on their pieces by using three or four warps together, or even a single very thick warp or even rope. If you see a rug with outside warps that are visibly thicker, look at the
ends of the rug for fringe or for evidence that the warp ends have been sewn back in to eliminate the fringe.
4. Navajo rugs usually have a wool warp. If you're not an expert in fibers, it may be difficult for you to tell what kind of warp was used, but in general cotton and linen are smoother than wool. Wool is, well, wooly. As you can see from the picture at the right, it has little fibers that stick out from the warp threads. Remember that there is one genuine Navajo rug (the Gallup throw) that is woven with a cotton warp. Also bear in mind that cotton was widely used as warp in the late 1800's. Look at the other indicators to determine the authenticity of the piece, but use the fiber content of the warp as part of your authentication.
Below you'll see master weaver Jennie Slick with a small finished rug. It's easy to see that it has no fringe, and the side selvage cord shows up well against the dark wool in the background. This rug has all the hallmarks of a genuine Navajo rug. It is all wool, including the warp, has no fringe and has a side selvage cord.
Finally, at right, is a nice Zapotec rug. You can see the fringe at the bottom. This is the type of rug that is most often confused with a Navajo weaving, and you can see why if you don't know about the fringe. The yarns for these rugs are often hand spun and hand-dyed and there is a great deal of skill involved in weaving them; they're just not Navajo. The color choices are not typically Navajo, and there is markedly less pattern than you would usually see in a typical Navajo piece that is the same size.
If you need help identifying a textile, I offer that service at $20-50 per item. Please click here to send information about the textile that you'd like to know more about.
166 Comments